My favorite app to use when studying my Bible is the Blue Letter Bible app. It's easy to use, it's a wealth of knowledge, and it's free! I'm sure I'm not even using a fraction of the resources on this app, but I want to share with you the ones that I do use and have found to be helpful. One thing that is incredibly helpful in studying the Bible is looking up words in the original languages in which the Bible was written. Gone are the days of bulky lexicons and expensive computer programs! You can easily look up Greek and Hebrew words on your phone. In this post, I will walk you step by step through using the Blue Letter Bible app to look up words in the original languages.
NAVIGATE TO THE PASSAGE YOU ARE STUDYING
By tapping the Scripture reference at the top of your screen, you will be brought to an index of all the books of the Bible. From here, you can easily navigate to the passage you would like to study.
TAP THE VERSE YOU WANT TO STUDY
Once you have brought up the chapter you are studying, tap on the verse for which you want to look up words in the original languages.
TAP INTERLINEAR/CONCORDANCE
At the very top of the menu, you will see "Interlinear/Concordance." Tap that!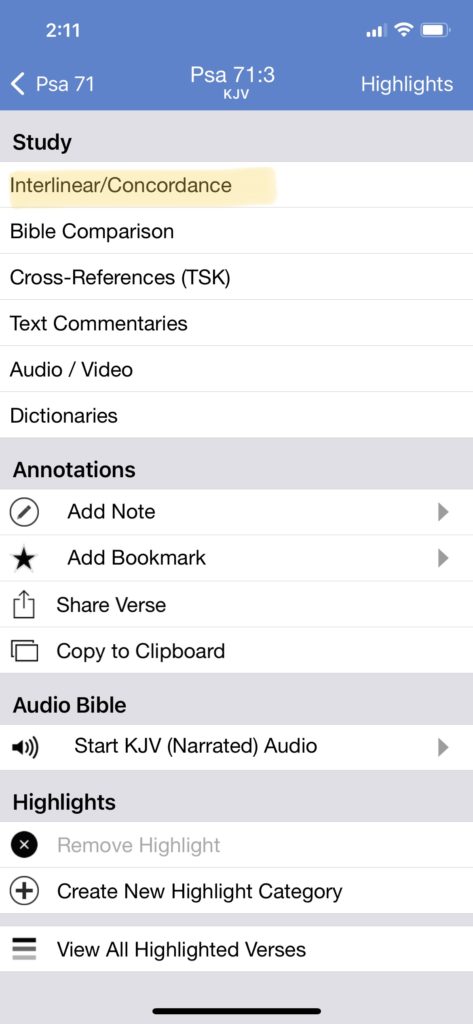 SCROLL DOWN AND TAP THE HEBREW/GREEK WORD YOU WANT TO STUDY
If you're in the Old Testament you'll see Hebrew words, and if you're in the New Testament you'll see Greek words. Scroll down and tap the Hebrew or Greek word that corresponds with the English word you would like to study.
THAT'S IT!
Scroll through this page to find definitions, how the word is used in the Bible, and other Scripture references where this word is used.
I'm so thankful for resources like this that allow me to deepen my understanding of God's Word even though my knowledge of Greek and Hebrew isn't as great as I would like for it to be. I pray that this will be a blessing to you. I will be creating more tutorials for the Blue Letter Bible app in the future, so make sure you're receiving my newsletter so you don't miss a post! You can sign up by entering your email address below!